New Zealand Search Engine & Directory
Enter your search query in the box below.
Welcome to our New Zealand search engine and directory. Use the Google form above to find anything on the web in New Zealand.
If you like our website, please add a link to the site.
About New Zealand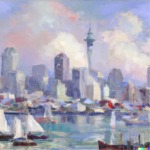 New Zealand is an island country located in the south-western Pacific Ocean. The country geographically comprises two main landmasses ‒ that of the North and South Islands ‒ and numerous smaller islands. New Zealand is situated some 1,500 kilometres (900 mi) east of Australia across the Tasman Sea and roughly 1,000 kilometres (600 mi) south of the Pacific island nations of New Caledonia, Fiji, and Tonga. Because of its remoteness, it was one of the last lands to be settled by humans.
During its long isolation, New Zealand developed a distinctive biodiversity of both animal and plant life. Most notable are the large number of unique bird species, many of which became extinct after the arrival of humans and introduced mammals. With a mild maritime climate, the land was mostly covered in forest. The country's varied topography and its sharp mountain peaks owe much to the tectonic uplift of land and volcanic eruptions caused by the Pacific and Indo-Australian Plates clashing beneath the earth's surface.